Generators

Displayed Pricing is 1 Day Rental

Select Overnight for Next Morning Pickup +25%

Select Multiday Rental for full day extended rentals +50%

Please call for last minute bookings and additional time slots, online booking is restricted to a set number of orders per hour.

In the unpredictable realm of events and weather, the need for a consistent and reliable power source is paramount. Our Generator Rental category at AE Bounce & Party Rentals has been tailored to meet the diverse energy requirements of our clients. From backyard birthday celebrations to larger community events, our generators ensure that the fun doesn't stop, even when the usual power sources might. With a range of capacities available, we're equipped to light up your party, keep the music going, and ensure that all equipment operates smoothly.

Beyond festivities, the significance of having a trustworthy generator becomes even more evident during unexpected storms and power outages. Our Generator Rentals offer a beacon of hope and continuity, ensuring that households remain functional, and businesses can continue their operations with minimal disruptions. With safety, efficiency, and dependability at the core of our offerings, you can rely on AE Bounce & Party Rentals not just to power your celebrations, but also to be a reliable partner during challenging times.
Generator (4550 Watts)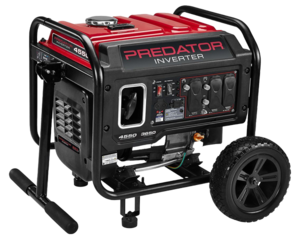 Craftsman Generator (4550 Watts)