Obstacle Courses

Displayed Pricing is 1 Day Rental

Select Overnight for Next Morning Pickup +25%

Select Multiday Rental for full day extended rentals +50%

Please call for last minute bookings additional time slots, online booking is restricted to a set number of orders per hour.

Dive into a thrilling world of twists, turns, and triumphant finishes with our Obstacle Courses category at AE Bounce & Party Rentals! More than just an inflatable, our obstacle courses invite guests of all ages to test their agility, strength, and speed in an exhilarating environment. These dynamic setups are a crowd-pleaser, making them a highlight at birthday parties, school carnivals, corporate events, and community gatherings.

Each course is intricately designed to offer a blend of challenging obstacles and exhilarating pathways, ensuring participants feel the rush of adrenaline and the satisfaction of completion. Whether it's weaving through barriers, scaling climbing walls, or racing to the finish line, our obstacle courses promise a blend of physical activity and sheer fun. Choosing AE Bounce & Party Rentals means treating your guests to an action-packed experience that not only entertains but also fosters camaraderie and friendly competition. Dive into the adventure, tackle the challenges, and let the races begin with our spectacular obstacle courses!
38ft Rainbow Run Obstacle Course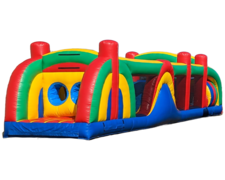 My Little Farm Toddler Bounce House