Combo Bounce Houses

Displayed Pricing is 1 Day Rental

Select Overnight for Next Morning Pickup +25%

Select Multiday Rental for full day extended rentals +50%

Please call for last minute bookings additional time slots, online booking is restricted to a set number of orders per hour.

The Combo Bounce Houses category at AE Bounce & Party Rentals represents the pinnacle of inflatable entertainment, merging the best of two worlds: the exuberant bounce areas and the thrilling slides. Imagine the sheer delight on children's faces as they not only jump to their heart's content but also get to experience the rush of sliding down, all within one incredible unit! These multifaceted inflatables are a game-changer for any event, delivering endless hours of excitement and ensuring every guest finds their perfect mode of fun.

Our Combo Bounce Houses are designed with both adventure and safety in mind. They cater to the varied energy levels and interests of kids, making them the star attraction at birthday parties, school events, and community gatherings. When you choose a Combo Bounce House from AE Bounce & Party Rentals, you're not just renting an inflatable; you're investing in a comprehensive entertainment solution that promises laughter, joy, and unforgettable moments. Elevate your event to legendary status with our Combo Bounce Houses, where every jump leads to a new adventure!
Multicolor Bounce House with Slide Combo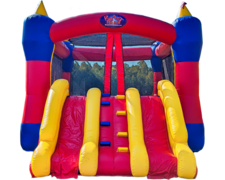 Unicorn Bounce House With Water Slide (Wet)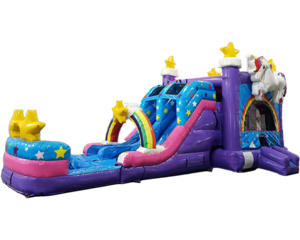 Unicorn Bounce House With Slide (Dry)