Water Slides

Displayed Pricing is 1 Day Rental

Select Overnight for Next Morning Pickup +25%

Select Multiday Rental for full day extended rentals +50%

Please call for additional time slots, online booking is restricted to a set number of orders per hour.

Water slide rentals from AE Bounce & Party Rentals offer a thrilling and fun way to combat the heat and make the most of the great outdoors. Perfect for backyard parties, community events, or just a casual day of frolic, our inflatable water slides become a centerpiece at any summer gathering. Our collection of water slide rentals are designed to cater to all ages, with small slides for the young ones and larger, more adventurous ones for teens and adults. With features like water sprayers, splash pools, and exhilarating drops, our slides promise endless fun and laughter. Built from robust materials and easy to operate, these slides make a hassle-free, exciting addition to your event. Turn your summer fun into a splashing extravaganza with AE Bounce & Party Rentals!

As a family-operated business based in Seneca, SC, AE Bounce & Party Rentals prides itself on upholding top-notch quality and exceptional customer service. We offer an extensive selection of inflatables, party equipment, and more, making us your go-to source for all party needs. Our rentals are meticulously cleaned, sanitized, and primed to transform your event into an unforgettable experience. Whether you're planning a low-key backyard party or a grand outdoor event, you can rely on us to deliver the best water slide rentals in Seneca, SC, ensuring your guests stay cool, entertained, and safe all day long. Trust us to take your party to the next level with our superior party rental solutions.
15ft Baja Blast Single Lane Water Slide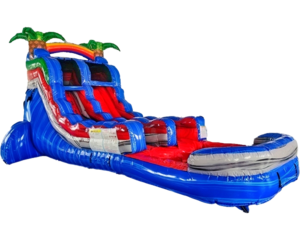 Unicorn Bounce House With Water Slide (Wet)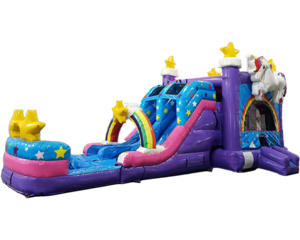 20ft Reggae Rush Double Lane Water Slide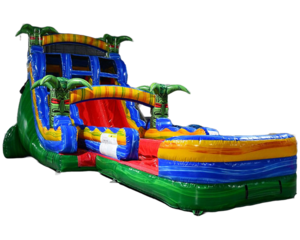 20ft Bahama Blast Double Lane Water Slide