Bounce Houses

Displayed Pricing is 1 Day Rental

Select Overnight for Next Morning Pickup +25%

Select Multiday Rental for full day extended rentals +50%

Please call for last minute bookings and additional time slots, online booking is restricted to a set number of orders per hour.

At AE Bounce & Party Rentals, our Bounce House Rentals are more than just inflatable structures; they're the vibrant heart of countless joyful celebrations. They encapsulate the essence of childlike wonder and pure joy, transforming ordinary events into extraordinary memories. Whether it's the gleeful shouts of kids at a birthday bash, the laughter shared during community events, or the delighted surprise of guests at a family reunion, our bounce houses provide an unparalleled entertainment focal point that appeals to all ages.

Each bounce house in our collection is meticulously chosen for its safety, design, and fun factor. The array of themes and sizes ensures that every event finds its perfect match, from princess castles to jungle adventures. With AE Bounce & Party Rentals, it's not just about jumping; it's about creating moments of pure happiness, shared laughter, and cherished memories. Dive into a world of fun and excitement with our Bounce Houses and watch as your event elevates to a celebration that's talked about for years to come!
Multicolor Bounce House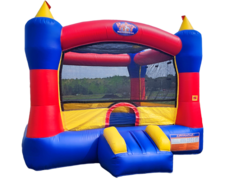 Sports Arena Bounce House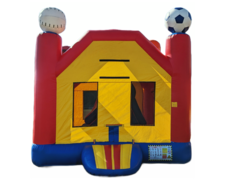 Multicolor Bounce House with Slide Combo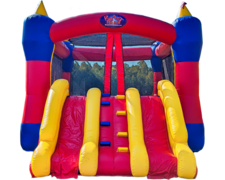 My Little Farm Toddler Bounce House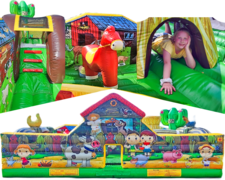 Unicorn Bounce House With Slide (Dry)