6ft Plastic Folding Table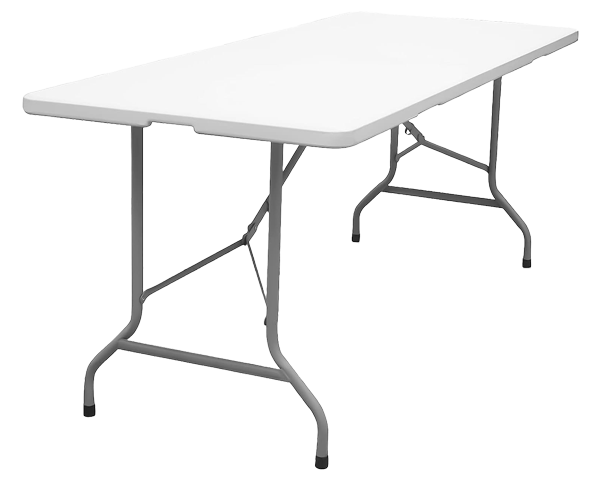 Description
Introducing the versatile and practical 6ft Rectangular Table, available for rent at AE Bounce & Party Rentals, your leading provider of party equipment and inflatables in Seneca, SC. This spacious and sturdy table is an essential component for any event, offering a convenient surface for dining, holding presents, or displaying party decorations. With its ample size and adaptability, the 6ft Rectangular Table is the perfect solution for all your seating and serving needs.
Designed with both functionality and aesthetics in mind, the 6ft Rectangular Table comfortably accommodates up to 6 adults or 6-8 children, making it an ideal choice for various occasions, including birthday parties, family gatherings, corporate events, or even casual dinners. The table's simple yet elegant design allows it to seamlessly blend with any event theme or décor, ensuring a cohesive and visually appealing presentation. With its durable construction, this table is built to withstand the demands of any celebration, ensuring a reliable and stable surface for your guests to enjoy.
At AE Bounce & Party Rentals, we pride ourselves on offering exceptional customer service, high-quality products, and affordable pricing to the Seneca, SC community. Our 6ft Rectangular Table is just one example of our commitment to providing the best rental experiences for our customers. Our friendly and professional staff will handle every aspect of the rental process, from initial inquiry to delivery and pickup, ensuring a seamless and stress-free experience. Enhance the functionality and comfort of your next event with the 6ft Rectangular Table from AE Bounce & Party Rentals.
NOTICE: Tables and chairs are delivered stacked. It is the responsibility of the customer to set up, arrange, and take down tables and chairs.